BE PREPARED TO BE SCARED!!
Experience Lake Hickory Haunts
Once you park in our free parking and have purchased your admission ticket, the terror begins as you walk down on our MIDWAY OF MAYHEM and wait until your name card is called. Inside the haunt, you will experience NIGHTMARE FACTORY, SHIPWRECKED, EXTINCTION, JUNKYARD, and BOSS'S BIG TOP CIRCUS! Our haunt is unique with an incredibly eerie lit lake as a backdrop for the entire haunt! Innovation and uniqueness is our priority when it comes to our themes and attractions. Now, you will experience six completely unique attractions for the price of one! Lake Hickory Haunts has been voted and ranked #1 in NC by many different sources and organizations! At Lake Hickory Haunts, we believe in innovation, not duplication! With industry leading monsters, animatronics, pneumatics, pyrotechnics, special FX, and more, Lake Hickory Haunts delivers the scare and entertainment of a lifetime like no other! Prepare for a thrilling night at Lake Hickory Haunts and BE PREPARED TO BE SCARED!!
#1 in NC Lake Hickory Haunts The victims have spoken, those who made it out alive at least! Lake Hickory Haunts in Hickory North Carolina has been voted #1 in NC with 1737 fan votes! This Extreme haunted attraction is an ever changing family affair! With over 20 years of haunt experience under their belt the owners know horror, and as one of their motto's goes they "Believe in innovation not Duplication" Congratulations to Lake Hickory Haunts on being named the Inaugural Victim's Choice Award Winner in North Carolina.
If you're looking for a haunted house or spooky trail look no further. Our haunted attraction was voted one of the best in North Carolina. We have the scariest haunted house type attraction combined with a spooky trial type attraction.. but better. And as it gets closer to Halloween we have you covered with a special Halloween weekend showing off the best, scariest Halloween haunted attraction you've ever seen. Save money by booking your tickets on line today and put us on the calendar, you won't regret it.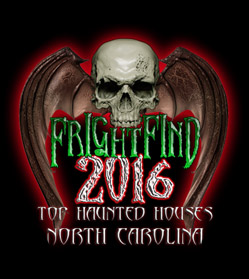 "Lake Hickory Haunts is Awesome! With the best staff, monsters, scenes, sets, indoor and outdoor attractions and a moving Haunted Boat Adventure,it's definitely #1 ! It is the premiere event of NC and SC, and is a Must See!"
- Ryan, via FearCarolina.com
"Lake Hickory Haunts is so unique, and they had some things I had never seen of ever thought I would see in a haunt. It's definitely worth the visit."
- collinmatt9, NCHaunts.com
"LHH is the top choice for this area in my opinion... Don't miss this special haunted treat!"
- 13moons, NCHaunts.com