Come Experience Voodoo Bayou at Lake Hickory Haunts
A Terrifying Treetop Adventure
Experience Powerful Witchcraft
A tribe of Voodoo Witch doctors lives in the treetops on the bayou. Among them, you may encounter the infamous Papa Legba and Marie Laveau! Be cautious – The power of their witchcraft and sorcery is not to be reckoned or bartered with!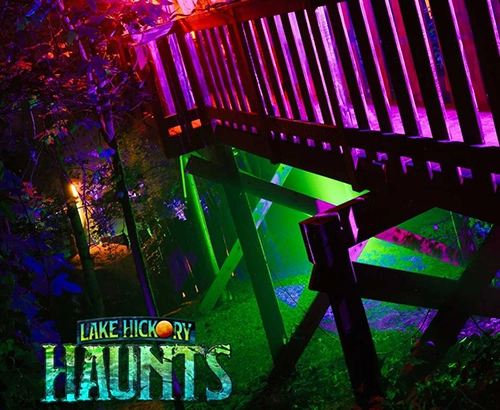 Don't Let Them Trick You!
Sometimes it's impossible not to give in to their tempting smiles and deceitful tricks. Don't make the mistake of trusting a witch doctor when you encounter Voodoo on the Bayou at Lake Hickory Haunts!
Voodoo Bayou is an attraction elevated 20-25 feet up in the air through the tree-tops. If you have a phobia or extreme fear of heights, please let a customer service team member know so they can assist you in bypassing this attraction.
SCHEDULE YOUR VISIT TODAY.